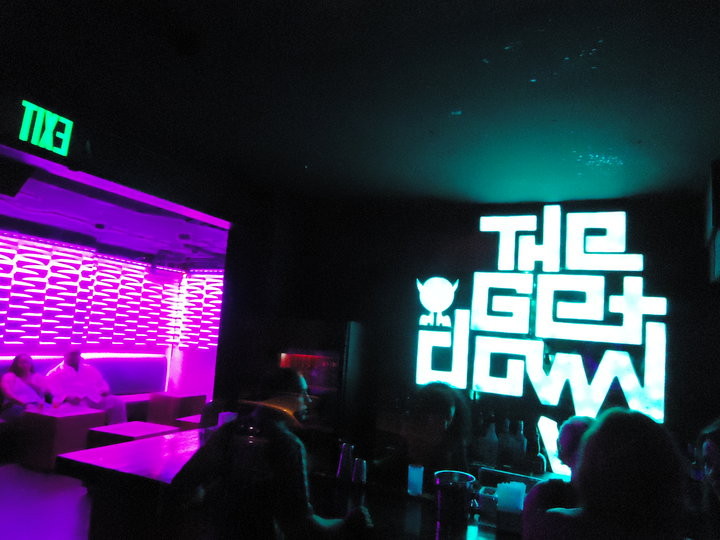 One of my most favorite places to go is
The Get Down
, period! I'll tell you why in a bit. Let's get into a little review shall we?
Bar
Really cool environment and the bartenders are mad cool and attentive. They know the right way to pour, and they give you a little bang for your buck. Depending on the night you go, prices of drinks vary. However, for a person like me that keeps it simple with a vodka + mixer or a rum + mixer, I've never had to spend more than $6 for a cocktail. Usually, they have a halfway decent rail vodka or rum. On Sundays, they have no cover charge and the drinks are half priced. You can go with Skyy Vodka or a Don Q Rum with a mix for $3.50. These def aren't low end vodkas or rums, so thats a VERY reasonable price. One of my fav shots is a concoction made by one of the bartenders..it's a bit pricy but after one of them, you'll definitely feel like you got your money's worth! It's called the Rusty Trombone which has Patron, Grand Marnier, and Cinnamon Schnapps, I believe. The weirdest combo but it will get you where you need to be! LOL.
Food
I've never had food at The Get Down to be absolutely honest. I cannot comment on this section. however, there is Subway near by, a Sticky Rice literally across the Street and up. Then there's the pizza spot around the corner which is chill. One day, I will have to try it.
Music
ALWAYS on point! I've never had a time where I really didn't like the music. The one thing that makes this place shine more than others is the general care for the dance floor. The DJs will really take you from soulful house, R&B, 90s Hip-Hop, club music, and more! Everyday is pretty much cool to go to The Get Down.
Thursdays
Pretty much a rave event. If you are into dubstep and that kinda vibe, you'll love Thursdays with DJ Linkmindz. Definitely some different stuff to expand that nightlife.
Fridays and Saturdays
Also good nights. Especially if you want to mingle with some cute females that know how to get down on the dance floor. Definitely a good look. Fridays you'll normally get a cool guest DJ that rips it apart. Saturdays, you'll get DJ Harry Hotter..one of the dopest DJs from D.C. He really knows how to move a crowd from D.C. Gogo to Baltimore Club. Definitely a great vibe on Saturday and it's ALWAYS packed.
Sunday
This is a really great vibe that can get packed as well. DJ Dirty Ralph and DJ Mic_L definitely hold it down for Sunday. DJ Blak Majik also holds it down as well from time to time. I wasn't able to attend yesterday's Sunday Session with Blak Majik but I hope so in the near future. It's been a while!
Overall, The Get Down is home for me! I cannot give it anything less than A just based on the great atmosphere, great music, great looking females, the dancing, and the quality of drinks.
Btw, please check out
M Effin Party
!
Here's a promo video of the vibe of The Get Down!